Model Arab League Instructor Receives Beacons of Excellence Award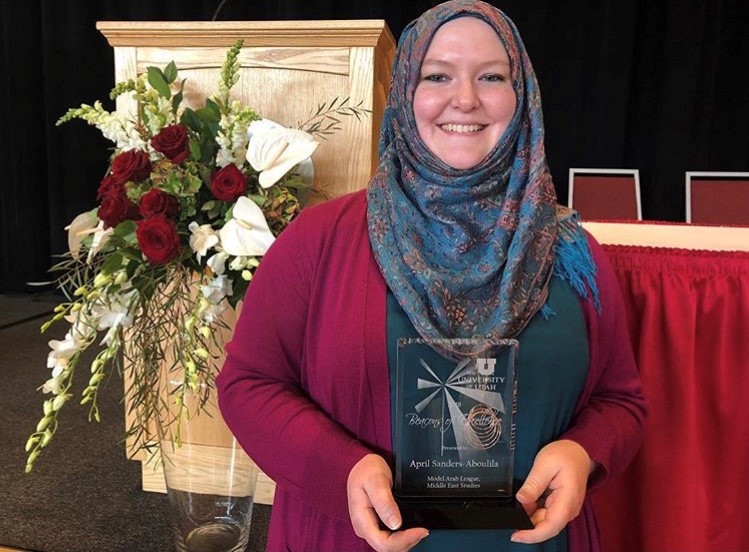 April Sanders-Aboulila, instructor and advisor for Model Arab League, has been selected as a recipient of the 2018 Beacons of Excellence Award for her work with Model Arab League. Each year, the Beacons of Excellence Awards Committee recognizes individuals and programs from across campus who are creating a transformative educational experience for students.
Model Arab League is a student leadership development program from the National Council on US-Arab Relations. Each year, students who have registered for the Model Arab League course (MIDE 4107) represent one of the league's 22 member-states at regional and national conferences , where student delegates work to achieve consensus on questions with which real-life diplomats wrestle daily. As a student and now as the instructor and advisor of the program, April has been integral to its success. Each spring semester, she teaches students the arts of diplomacy and public speech and deftly supports students in developing their interests and understanding of the Middle East. We are thrilled to see April's exceptional advising and advocacy for students be recognized.
Here is what April has to say about being receiving this award:
"It's an honor to be a recipient of the Beacons of Excellence, but this could not have been possible without the support, guidance, and contributions from students, staff, and faculty from the College of Humanities and the Middle East Center. I want to thank first and foremost students whom have participated in Model Arab League—without your drive and passion in the Middle East, the future is bleak—you have always and will always have an important voice in ensuring the sustainability, access, and empowerment of the Middle East. Thank you to Dr. Nathan Devir, Middle East Center Director for your continued support and advocacy for this exceptional student program. To the International and Area Studies staff, thank you for working diligently with our Middle East Studies students, planning events, and budget requests. Lastly, thank you to all of the donors who have provided support financially. With all of the contributions from our campus partners, Model Arab League continues to provide students hands-on experiences, professional connections, and an avenue for students to thrive in their educational aspirations."
Hear from all of the recipients of the 2018 Beacons of Excellence Award here.