FLAS Online Application Announcement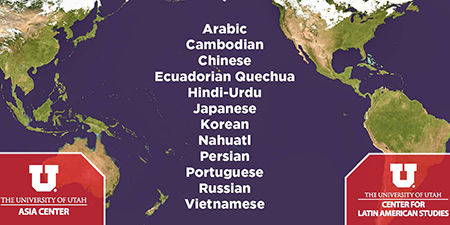 Click the arrow below to see the backside
FLAS Application Now Online - Summer 2019 and Academic Year 2019-2020
Due Date: January 25, 2019
The Foreign Language and Area Studies (FLAS) application for summer 2019 and academic year 2019-2020 awards is now available and entirely online! The due date is January 25, 2019.
Please note the following information and suggestions regarding the online application:
The FLAS application is now online only. Beginning in 2019 paper applications will not be accepted.
Applicants may begin, work on, and save the online application prior to submission.
Letters of recommendation must be received, not only requested, by the application due date. We highly recommend that applicants enter the names and email addresses for their letters of recommendation early in the application process, no later than two weeks prior to the due date, and email prompts will be sent to their recommenders.
Click here for the FLAS online application.
---
What is FLAS?
Foreign Language and Area Studies (FLAS) Fellowships are federally funded awards offered through the University of Utah's Asia Center and Center for Latin American Studies. They provide funding for undergraduate and graduate students who study modern foreign languages and related area studies.
What are the eligibility requirements?
Applicant must be a U.S. citizen or permanent resident of the United States.
Undergraduate applicants must be at least at second-year proficiency of a less commonly taught language at the beginning of the award period.
How much does FLAS provide?
Undergraduate awards provide up to $10,000 in tuition and a $5,000 stipend for the academic year.
Graduate awards provide up to $18,000 in tuition and a $15,000 stipend for the academic year.
Summer awards provide up to $5,000 in tuition and a $2,500 stipend.
What majors and departments can apply?
Undergraduate and graduate students from all majors and departments (except the School of Medicine) are encouraged to apply for FLAS. You do not have to be a language or area studies major to apply.
---
Click here for more FLAS information.
Click here to schedule an appointment with the FLAS advisor.