BIPOC Going Global Career Panel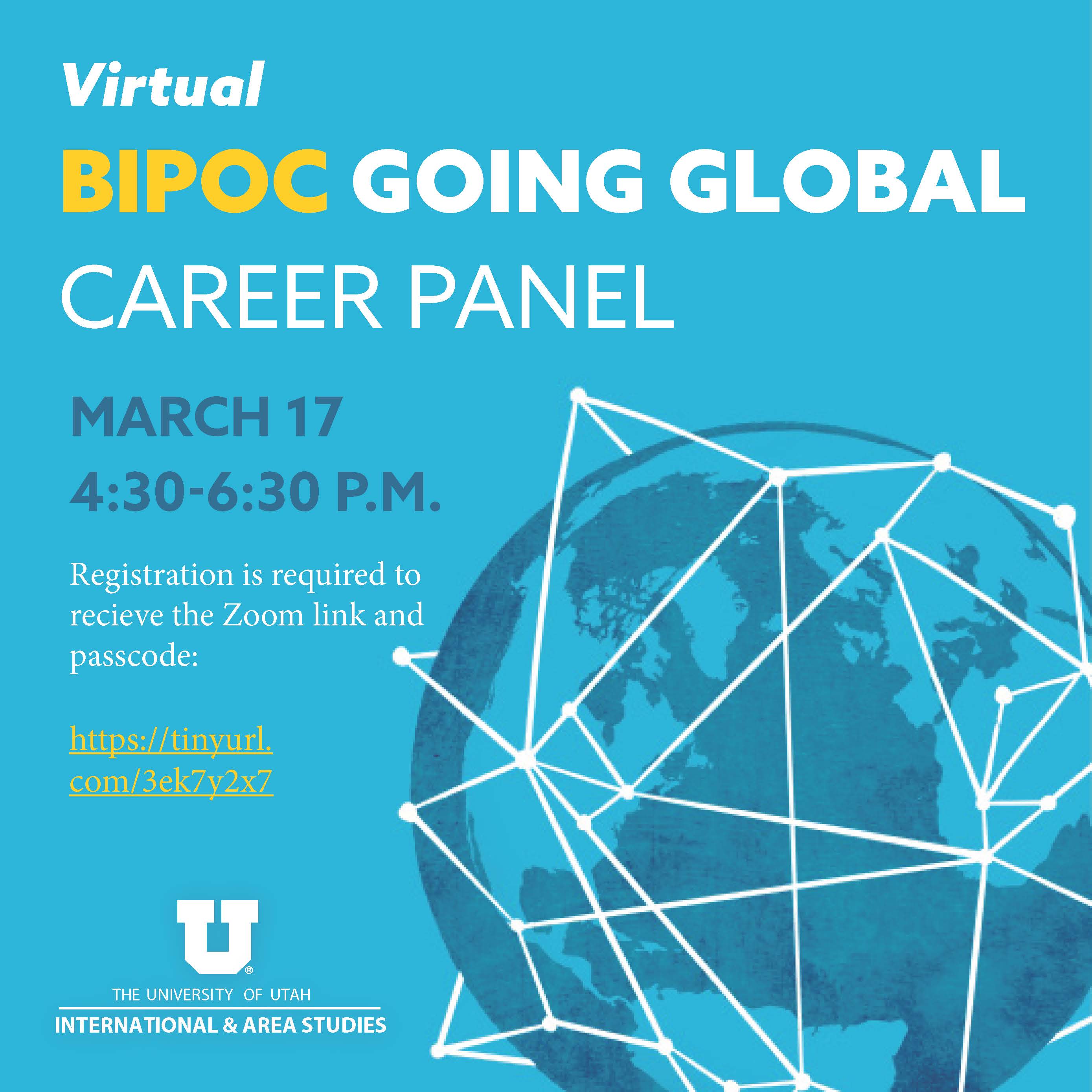 Each year International and Area Studies coordinates our Going Global event in conjunction with the Career and Professional Development Center. This year we want to highlight the global careers, international experiences, and language skills of BIPOC individuals and how those skills and experiences have benefitted them in the workplace. The career panel lasts one hour, in which panelists will answer questions about their careers and the value of global experiences. Following the panel there will be a one-hour networking session. Each networker will be in a Zoom breakout room, and attendees can move from room-to-room freely to meet with each networker.
Date: Wednesday, March 17
Time: 4:30-6:30 p.m. MST
Location: Zoom. Registration is required.
Timeline of event:
4:30 p.m.- Panel discussion
5:30 p.m.- Networking begins
6:30 p.m.- Event concludes.
Please note: Panelists will also be networkers during the networking portion of this event.
---
Panelists

Carla Fleharty
Ms. Fleharty, a career member of the Foreign Service, became Deputy Director of the U.S. Department of State's Florida Regional Center in Ft. Lauderdale in September 2020. Prior to this assignment, Ms. Fleharty was the Management Counselor at the U.S. Embassy in Santiago, Chile, starting in August 2017, and she served as the Acting Deputy Chief of Mission (A/DCM) for 14 months starting in January 2019.
Ms. Fleharty joined the Department of State in 1999 and has served overseas in Yaoundé, Cameroon as a Political, Economic and Consular Officer, and then as a Vice Consul in London, UK. In Washington, DC, she worked in the Executive Secretariat in the Operations Center and as a member of the Secretary of State's travel advance team; as a Desk Officer in the Bureau of European Affairs; and as a Special Assistant to the Under Secretary for Public Diplomacy and Public Affairs. In 2009, Carla completed a one-year training detail at the U.S. Army Command and General Staff College (CGSC) in Fort Leavenworth, Kansas. She then served as the Supervisory General Services Officers in Dakar, Senegal; as the Human Resources Officer in Islamabad, Pakistan; and as the Management Officer and Acting DCM in Montevideo, Uruguay.
Carla holds a B.A. in Journalism and Mass Communications from the College of the Ozarks, a M.A. in International Relations from Webster University, and a master's degree in Military Art and Science from CGSC. Carla is married to Michael Fleharty and she speaks French and Spanish.

Shireen Ghorbani
From Peace Corps to public office, service is an important through line for Shireen Ghorbani. Shireen served as a Salt Lake County Councilwoman and currently works at the University of Utah as an Associate Director of Communication and Organizational Development in Facilities Management. Shireen served in the Peace Corps in the Republic of Moldova from 2003 to 2005. While a PCV, she served as the Gender and Development coordinator for volunteers and continues to focus on gender equity in her current efforts. Shireen is a passionate advocate for expanding access to affordable healthcare, building strong, safe, and sustainable communities, and works hard to protect public lands and open spaces. Shireen is a former candidate for the United States House of Representatives, a current board member for the Rape Recovery Center in Salt Lake City, and enjoys spending time with her family in the beauty of southern Utah.
Get connected with her on Facebook at Shireen Ghorbani or on Twitter and Instagram: @shireenghorbani

Mel Moeinvaziri
Melissa ("Mel") Moeinvaziri graduated with honors from the S.J. Quinney College of Law in May 2017 and was admitted to the Utah Bar in October 2017. She has been with Perretta Law Office since May 2016, where she focuses on asylum and deportation defense. Mel is an adjunct assistant professor at the S.J. Quinney College of Law, where she co-teaches IMMIGRATION: REPRESENTING DETAINED IMMIGRANTS. (https://faculty.utah.edu/u0532324-MELISSA_MOEINVAZIRI/hm/index.hml)
Prior to law school, Mel graduated with honors from the University of Utah with bachelor degrees in Political Science and International Studies. She also earned a Master's of Science in Refugee and Forced Migration Studies from the University of Oxford. There she wrote her thesis on the post-deportation monitoring of rejected asylum seekers. She also interned with the Rights in Exile Programme, where she managed the Post-Deportation Monitoring Network. She continues to serve as a resource person for the network.
During law school, Mel interned at the Salt Lake City Immigration Court as well as the U.S. District Court for the District of Utah. Additionally, she focused her study on immigration law and received a CALI award in Legal Methods (legal writing). Mel exercised her passion for public service by working with the law school's Pro Bono Initiative ("PBI"). With PBI, Mel served as Director of the Hartland Clinic (2015-2016), Director of the Community Legal Clinic: Sugarhouse (2016-2017), and a Pro Bono Fellow (2016-2017). She also served as the President of the Minority Law Caucus and continues to serve as a member of the Dean's Diversity Council.
Mel was born and raised in Salt Lake City, Utah. Her father immigrated to the U.S. from Iran, her mother from Portugal, and her stepmother from the Philippines. Mel has never lost the global perspective of her upbringing and carries her knowledge of international affairs into her work at the local community level. When she is not jumping out of airplanes or scaling rock cliffs, Mel dedicates time to advocating with and for the immigrant and refugee community.

Aaron Mendez
Aaron Mendez is an alumnus of the University of Utah, where he graduated with his B.A degrees in Japanese and Asian Studies in 2018. Aaron became fascinated with the Japanese language due to its visual and phonetic counterparts, and in 2016 he decided to study abroad in Osaka, Japan, for a six-week summer intensive language training at the International Buddhist University. Upon return, he resided in the O.C Tanner Humanities Global Citizenship House, a living-learning community-style student housing on campus for the rest of his studies. There, Aaron created memorable experiences with other residents, domestic and international, with whom he is still in contact. After graduating, he returned to Japan through the Japanese Exchange Teaching (JET) Program; however, he returned to Utah due to unforeseen circumstances, questioning his career path. In 2019, he was offered a role as an International Student Services Advisor for Utah Global, a pathway provider program through Shorelight at the University of Utah, there his passion for the field of International Education blossomed. Unfortunately, the field was greatly affected by the pandemic, and so was his role. However, that did not stop Aaron from gaining valuable experiences; he completed a virtual internship with the Office of International Education at Ferris State University, and now, he is one month in at the Office of International Admissions at the University of Utah as an International Academic Program Support Specialist and Designated School Official. In conjunction with his work, Aaron is near completing his M.A in International Education at the School for International Training (SIT) Graduate Institute in 2021, where he intends to present his research on the international student experience. Aaron loves languages, and although he is proficient in Spanish and Japanese, he plans to study Korean, Chinese Mandarin, and Brazilian Portuguese after graduating. Aaron recognizes the importance of networking and is excited to connect with attendees and share his experiences in more depth.
---
Networkers
Lucia Chuquillanqui

Lucia Chuquillanqui is a Peruvian International Development Professional with over eight years of experience developing and implementing projects in Latin America and the United States in advocacy, gender, environmental policy, communications, and recently in women's health solutions. She has worked at the World Wildlife Fund in Peru and the United States, promoting optimal institutional frameworks in gender and biodiversity conservation for the Global Environmental Fund (GEF). Lucia is the cofounder of Hermanas, a digital platform to showcase research and new narratives on women's health, and Chicas Poderosas US Ambassador.

Natalie El-Deiry
"The International Rescue Committee responds to the world's worst humanitarian crises and helps people whose lives and livelihoods are shattered by conflict and disaster to survive, recover and gain control of their future. In more than 40 countries and over 20 U.S. cities, our dedicated teams provide clean water, shelter, health care, education and empowerment support to refugees and displaced people."

Jenna Matsumura
Jenna Matsumura is the Diversity Recruiter for Zions Bancorporation in Salt Lake City. Prior to this position, she worked in gender equity on college campuses- including the U of U! She graduated in 2015 with a B.S. in Environmental Studies and in 2017 with an M.Ed. in Higher Education. Her pro tip for career searches is to reach out to a recruiter to learn more about the position before you apply.
---
Moderator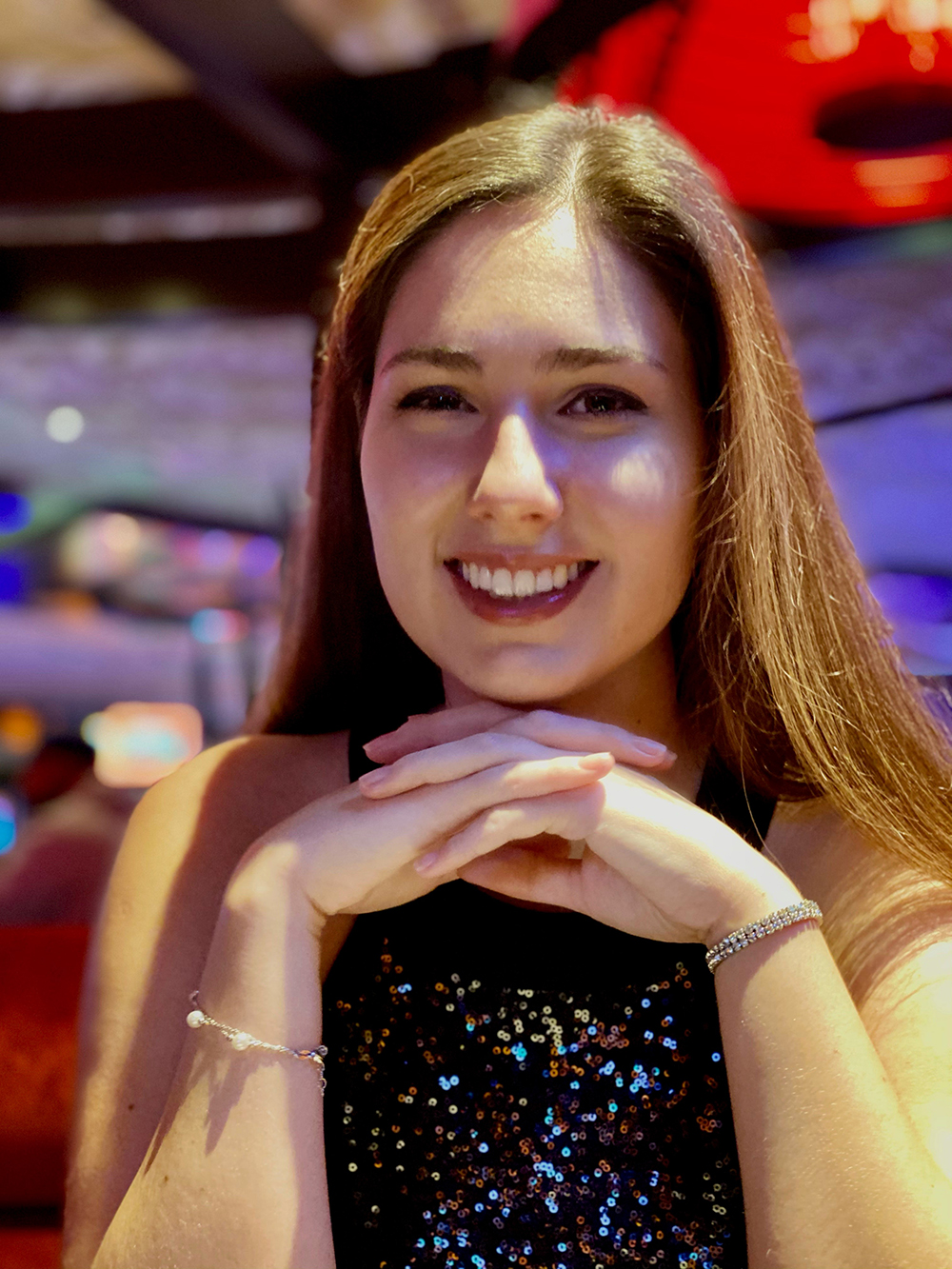 Ana Luiza Ramos
My name is Ana Luiza Ramos and I am originally from Londrina, a big city in the south of Brazil. I moved to the US when I was 12 years old, and now I am in my Junior year at the U studying Political Science and International Studies as well as pursuing a minor in Portuguese and Brazilian Studies. Ever since I started my higher education I have also been involved in the media, first as a writer then Assistant Editor in Chief of The Globe at SLCC, then as Assistant News Editor for the Utah Chronicle, and finally this year I am Editor in Chief of the Utah Chronicle and the Wasatch Magazine. I am also a current local Hinckley intern at the Salt Lake County Mayor's Office for New Americans, and I am hoping to do a Global Internship this summer as well, working for the British Parliament. I am fluent in Portuguese and English, and I can understand French and Spanish as well. My passion is cultures and multi-cultural interaction, and I hope to be an American Diplomat some day.